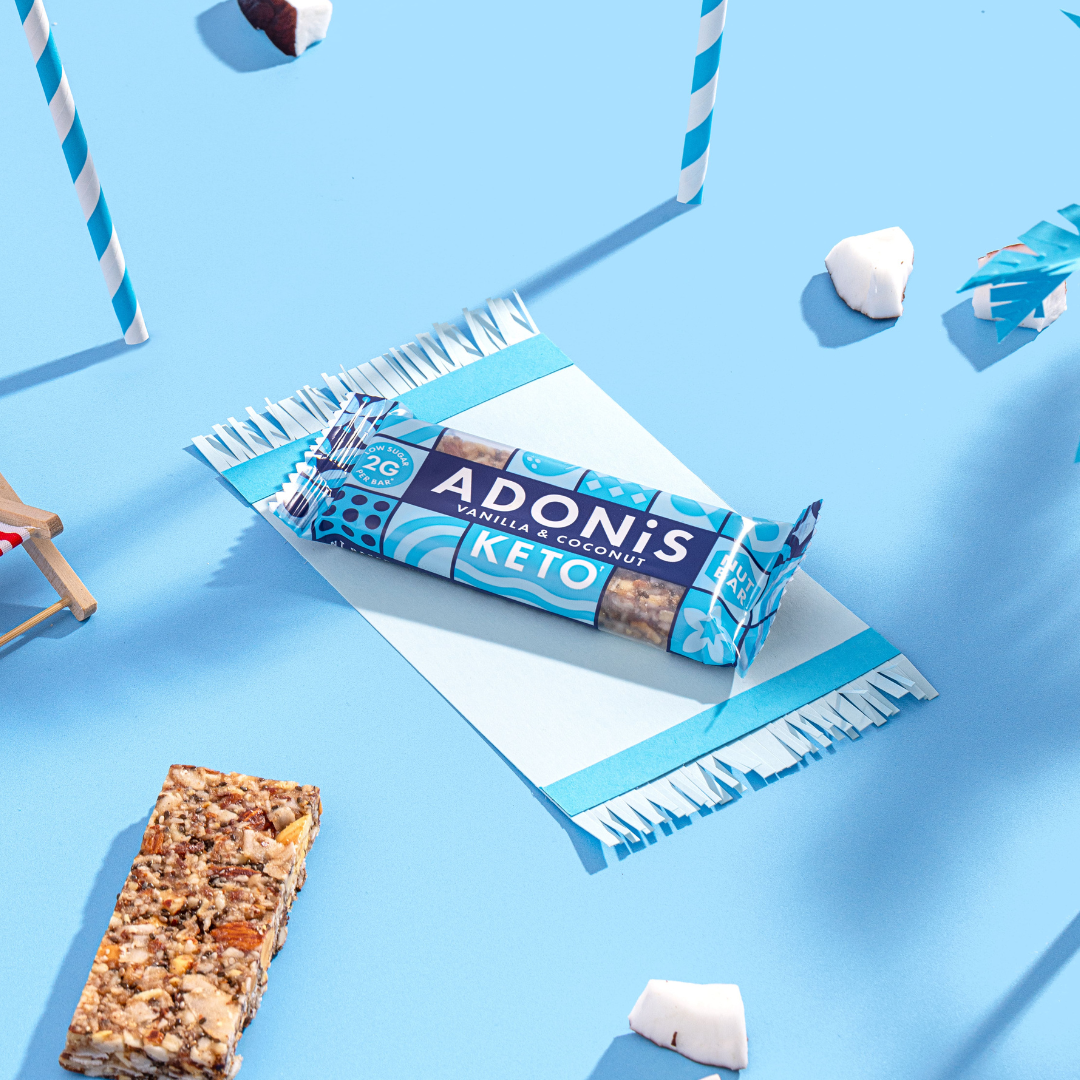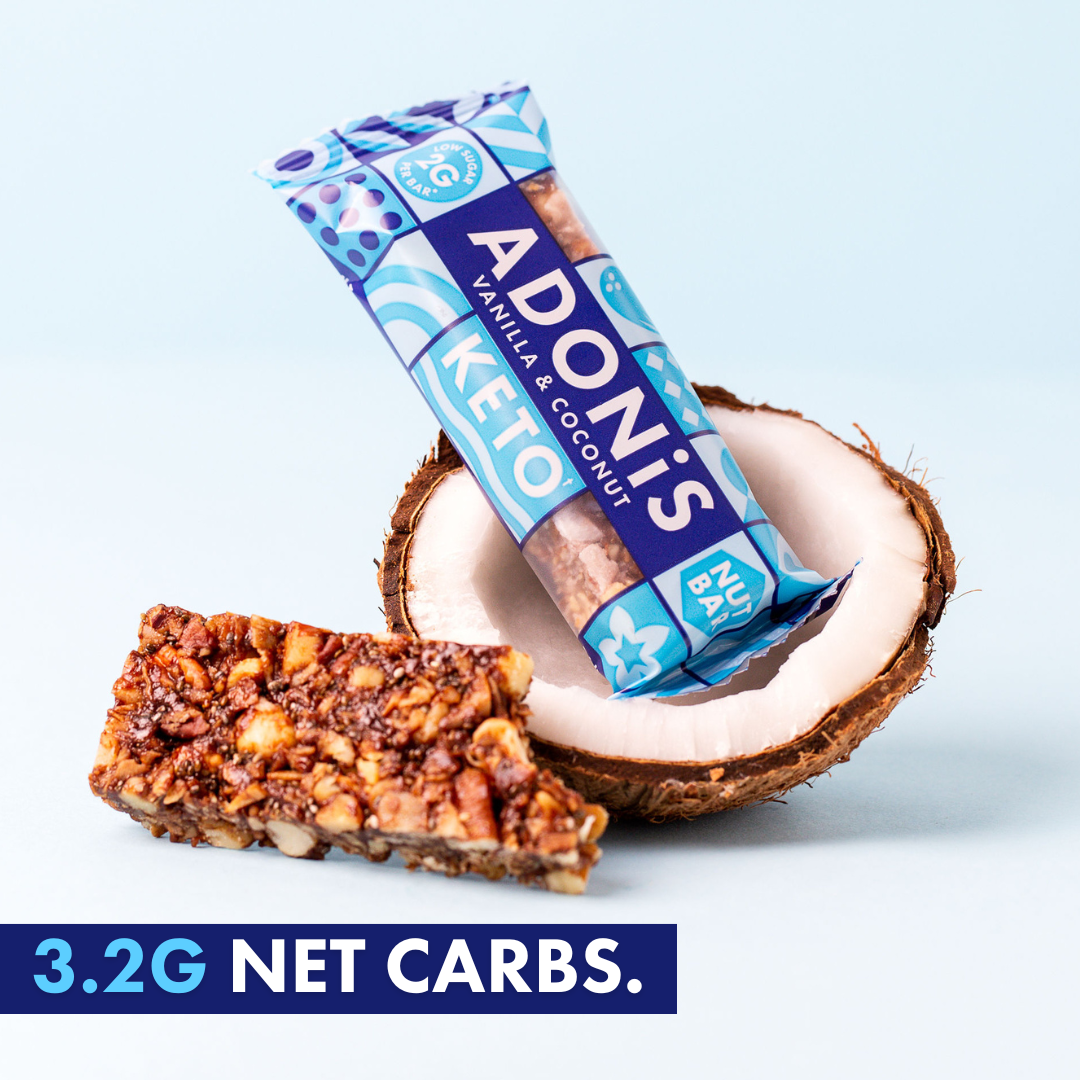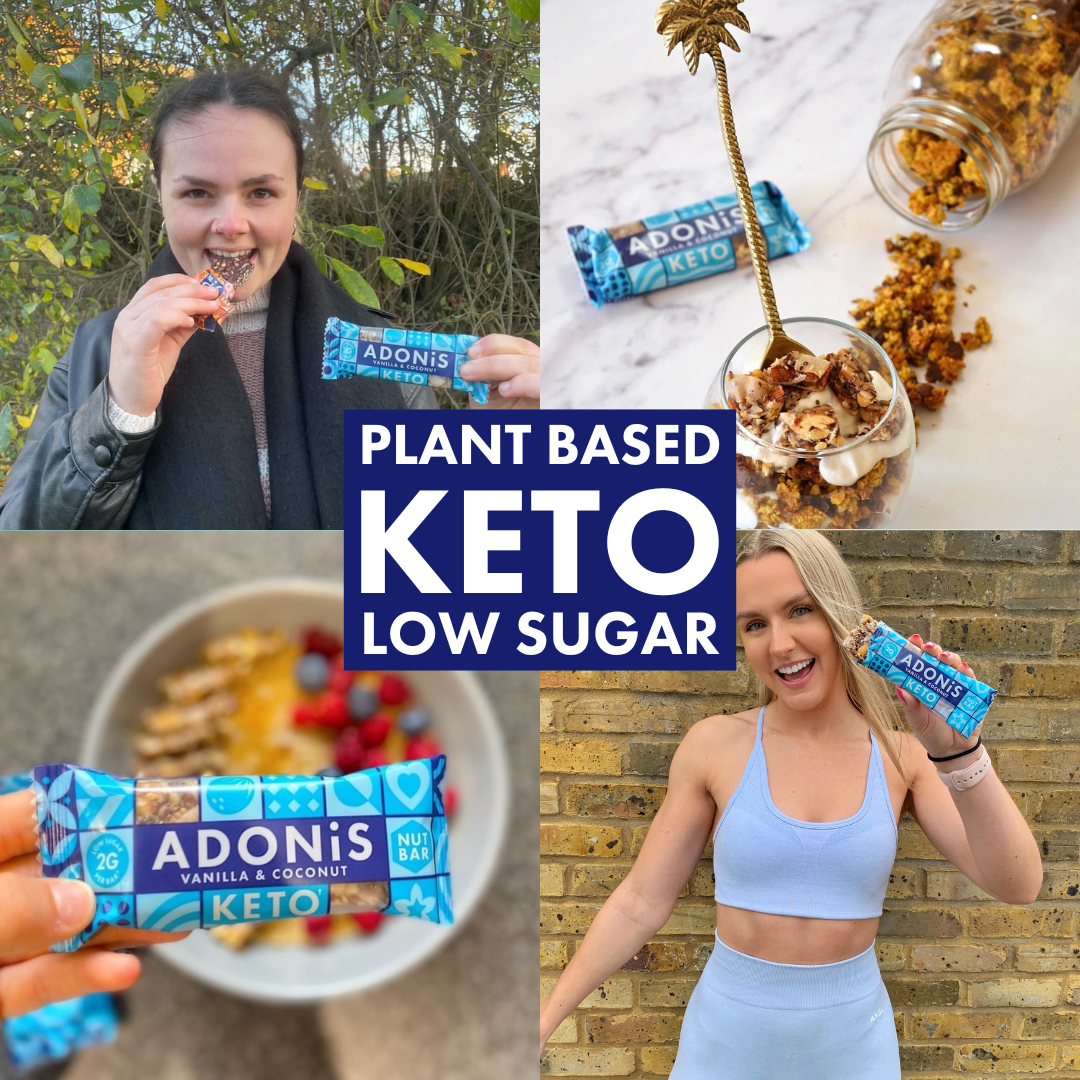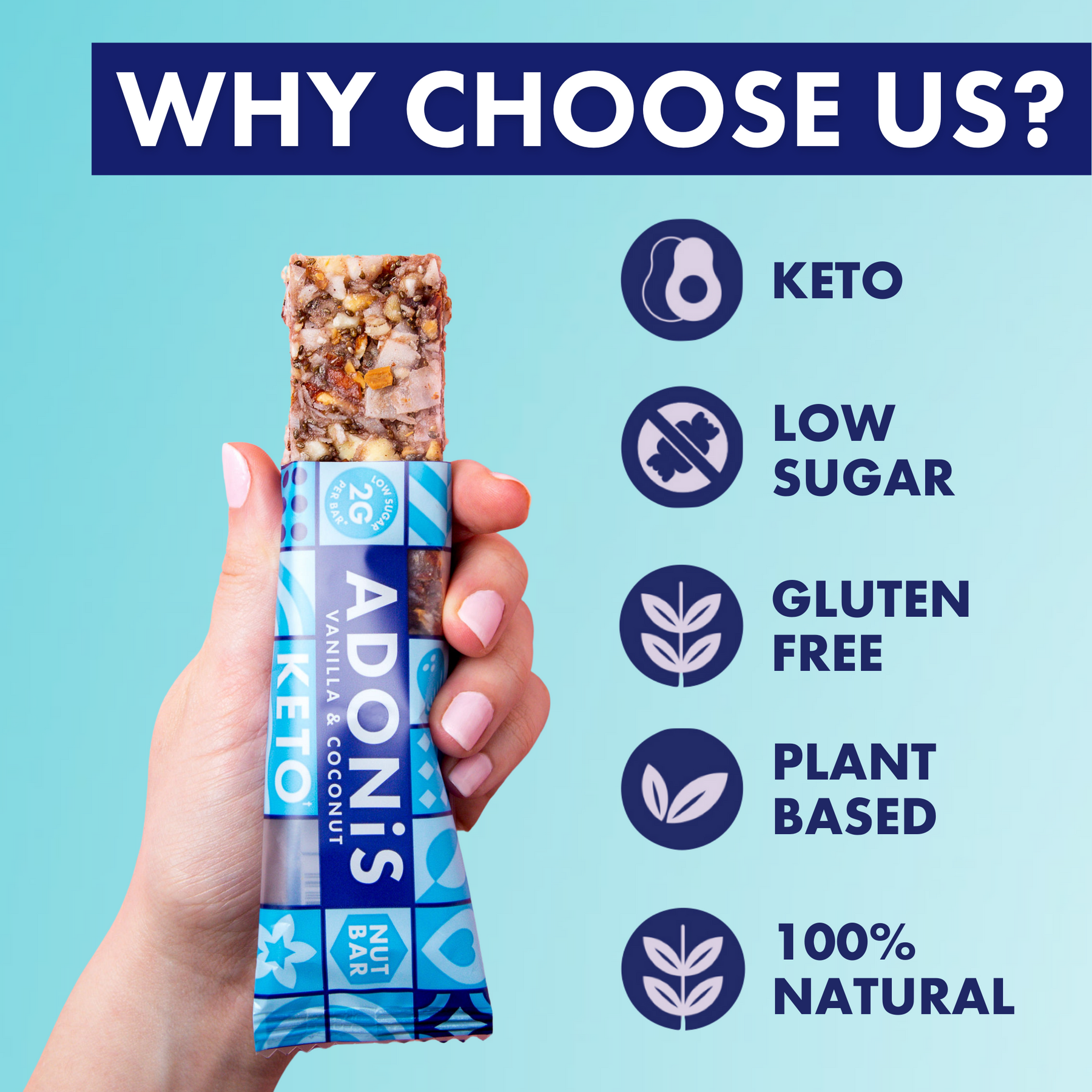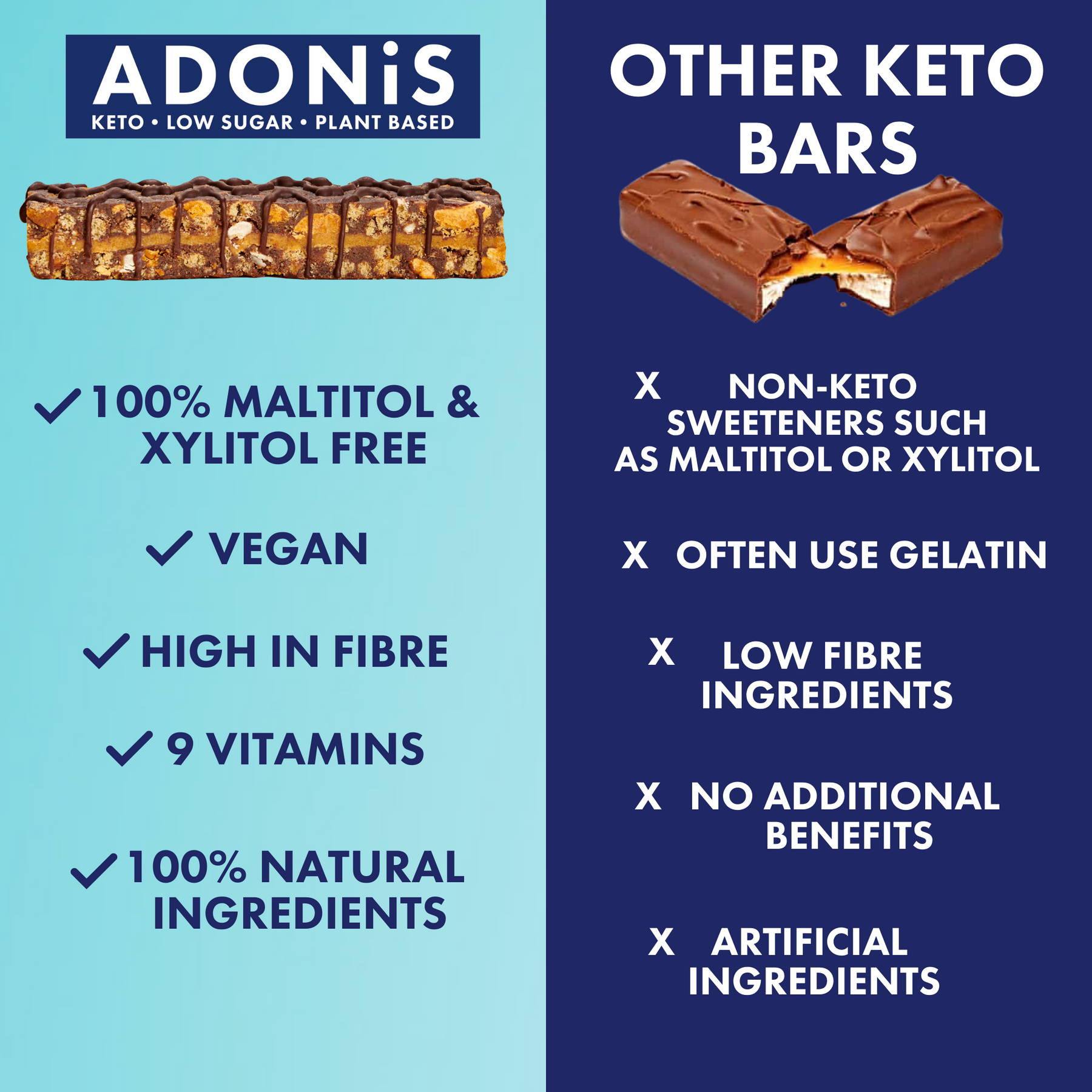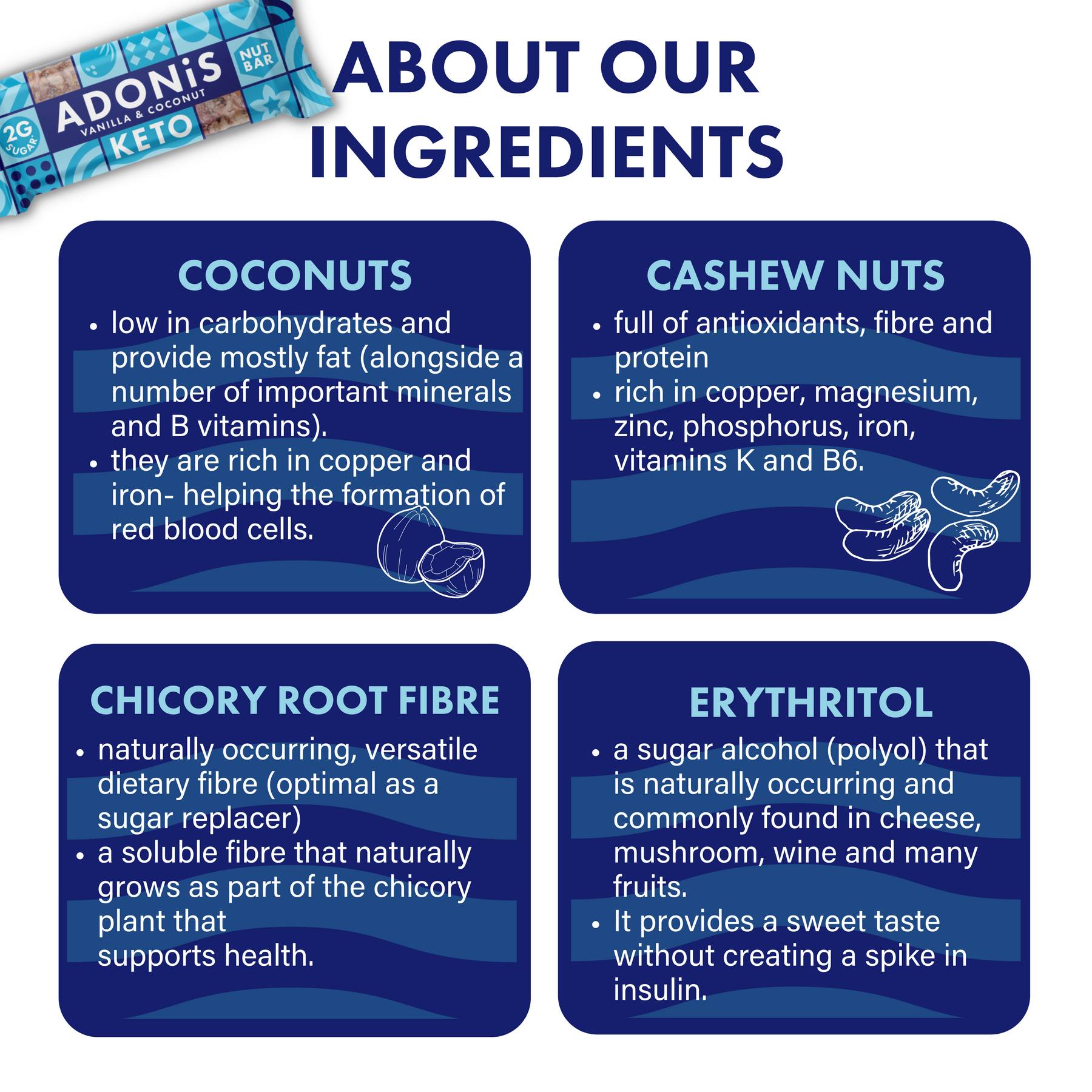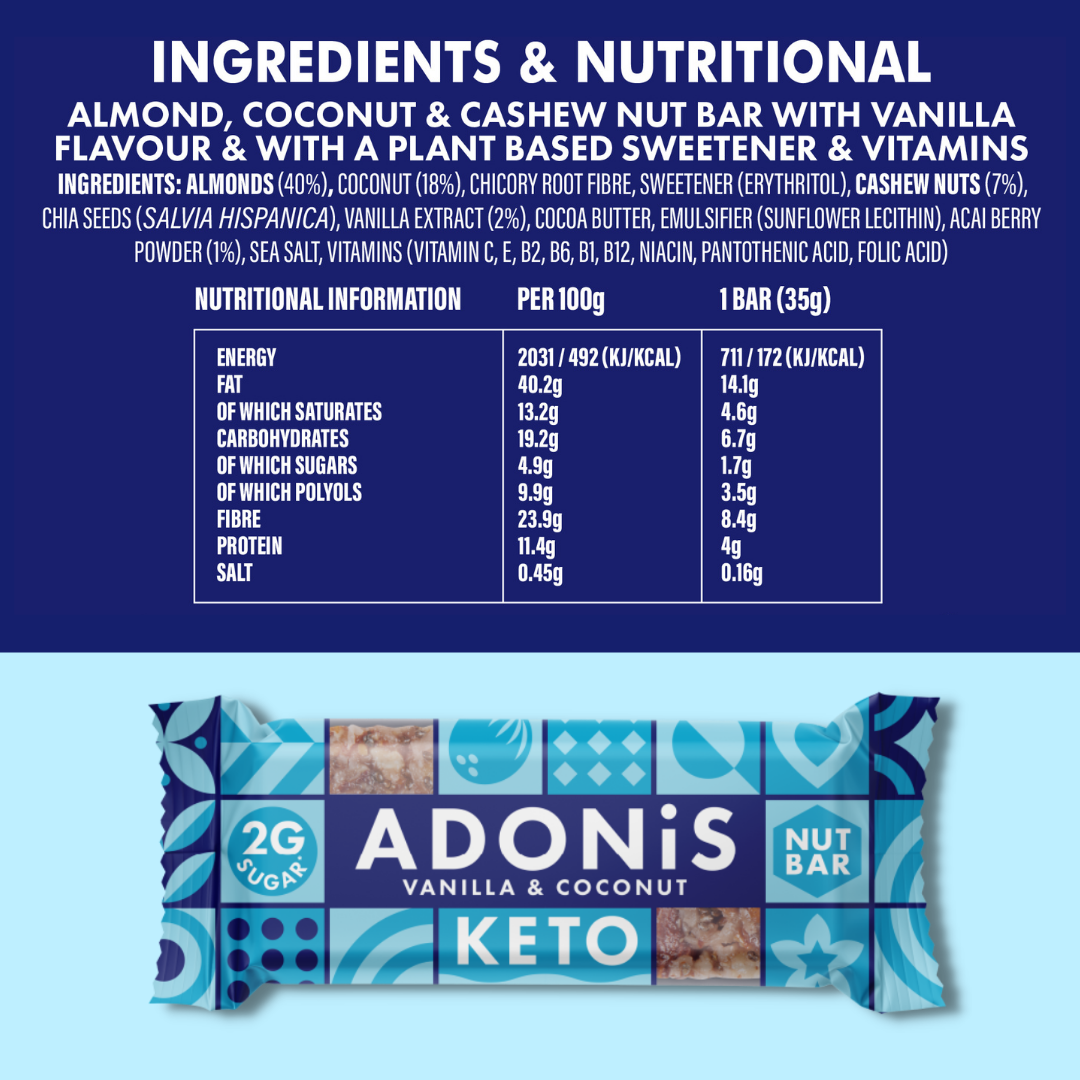 Vanilla & Coconut Keto Nut Bars (16x35g)
In stock - in your hands in 2-3 days
Vanilla & Coconut Keto Nut Bars
A low sugar, gluten-free snack alternative
Made from natural ingredients
16 x 35g Bars From £25.90
One of our original keto bars (and favourites) … the Vanilla and Coconut Keto Nut bar! 🥥

Sweeten up your day with this delicate combination of exotic flavours - and with only 2g of sugar, what's not to love? 🌴

Low in sugar, but high in fiber and healthy fats, with 9 added vitamins. 100% vegan, keto-friendly and gluten-free. 
Coconuts: are low in carbohydrates and provide mostly fat (alongside a number of important minerals and B vitamins). They are also rich in copper and iron- helping the formation of red blood cells.

Cashew Nuts: are full of antioxidants, fibre and protein. They are also rich in copper, magnesium, zinc, phosphorus, iron, vitamins K and B6.

Erythritol: is a sugar alcohol (polyol) that is naturally occurring and commonly found in cheese, mushroom, wine and many fruits. It provides a sweet taste without creating a spike in insulin.

Chicory Root Fibre: is a naturally occurring, versatile dietary fibre (optimal as a sugar replacer). It is a soluble fibre that naturally grows as part of the chicory plant and has a substantial body of strong science supporting health.
Ingredients: Almonds (40%), Coconut (18%), Chicory Root Fibre, Sweetener (Erythritol), Cashew Nuts (7%), Chia Seeds (Salvia Hispanica), Vanilla Extract (2%), Cocoa Butter, Emulsifier (Sunflower Lecithin), Acai Berry Powder (1%), Sea Salt, Vitamins (Vitamin C, E, B2, B6, B1, B12, Niacin, Pantothenic Acid, Folic Acid).
We offer free delivery over £35 (£2.99 if under) but subscription orders have free shipping, ALWAYS!

If you place an order before 10:30am on a weekday, we will despatch it the same day. Otherwise, it will be despatched on the next working day.

If you ordered or received the wrong item, or there is another problem with your order, you can return them within 30 days of delivery. To start a return, please send us your order confirmation and a photo of your order with your reason for return to hello@adonis-foods.com

We will investigate the issues and if the return is accepted, you will receive a shipment label to return your item free of charge. Refunds will then be sent via the original payment method no later than 30 days after the returned products have been received.
"
ADONiS vs OTHERS
ADONiS
OTHERS
ADONiS COMMUNITY
At ADONiS, we strive to create a strong community of supportive and like-minded individuals who value healthy eating. We believe in making plant based keto snacks accessible for all.
3M BARS SOLD TO DATE
Founded in 2016 by Ingo Braeunlich, ADONiS' mission was simple: to fight the overconsumption of sugar and provide a healthier alternative to traditional snacking. Today, ADONiS has sold over 3 million bars to date, and is now a leader in the keto snacking industry.
TRIED AND TESTED
All of our products are designed to be the perfect macros for the keto diet. This means no spike in your blood sugar levels and no energy crashes.