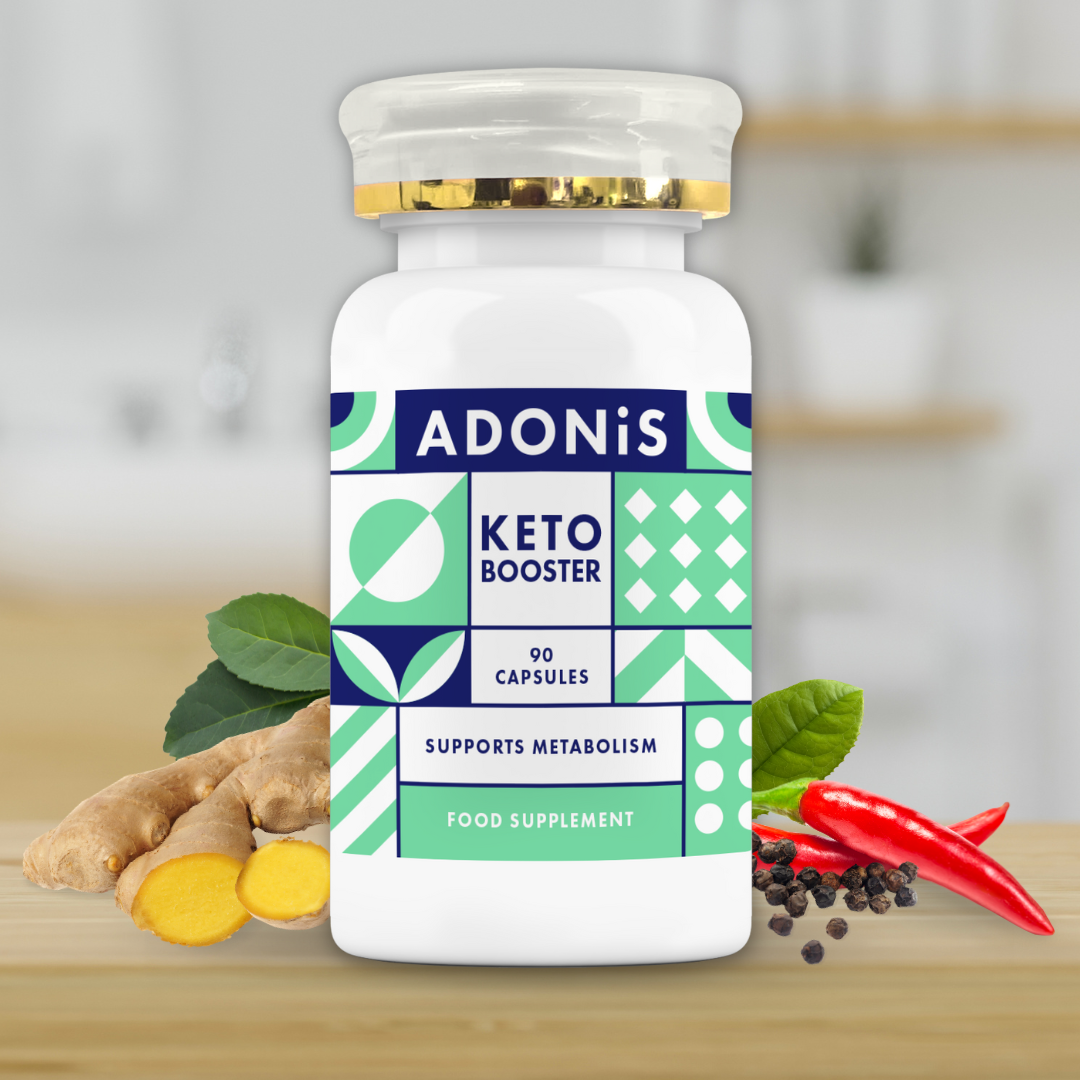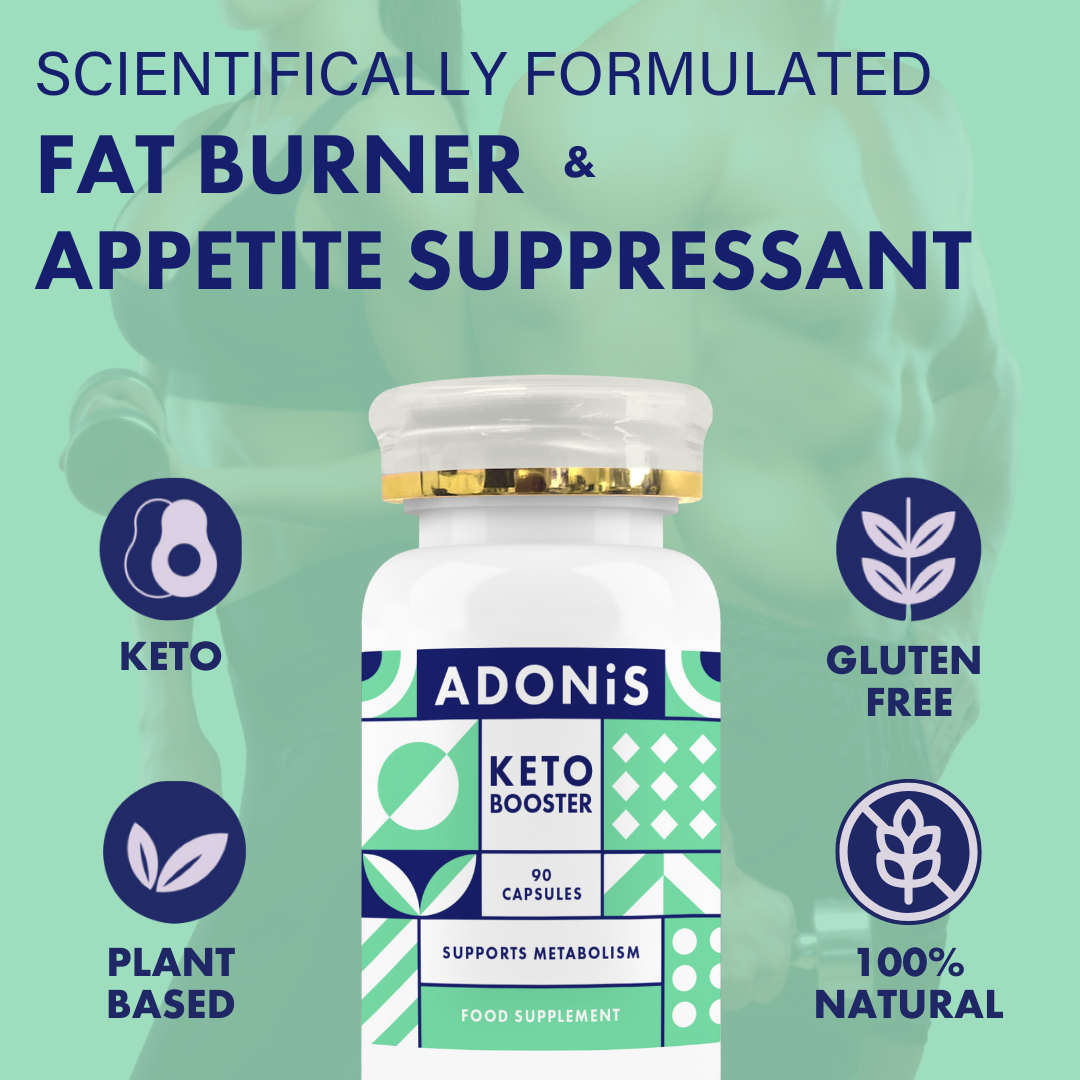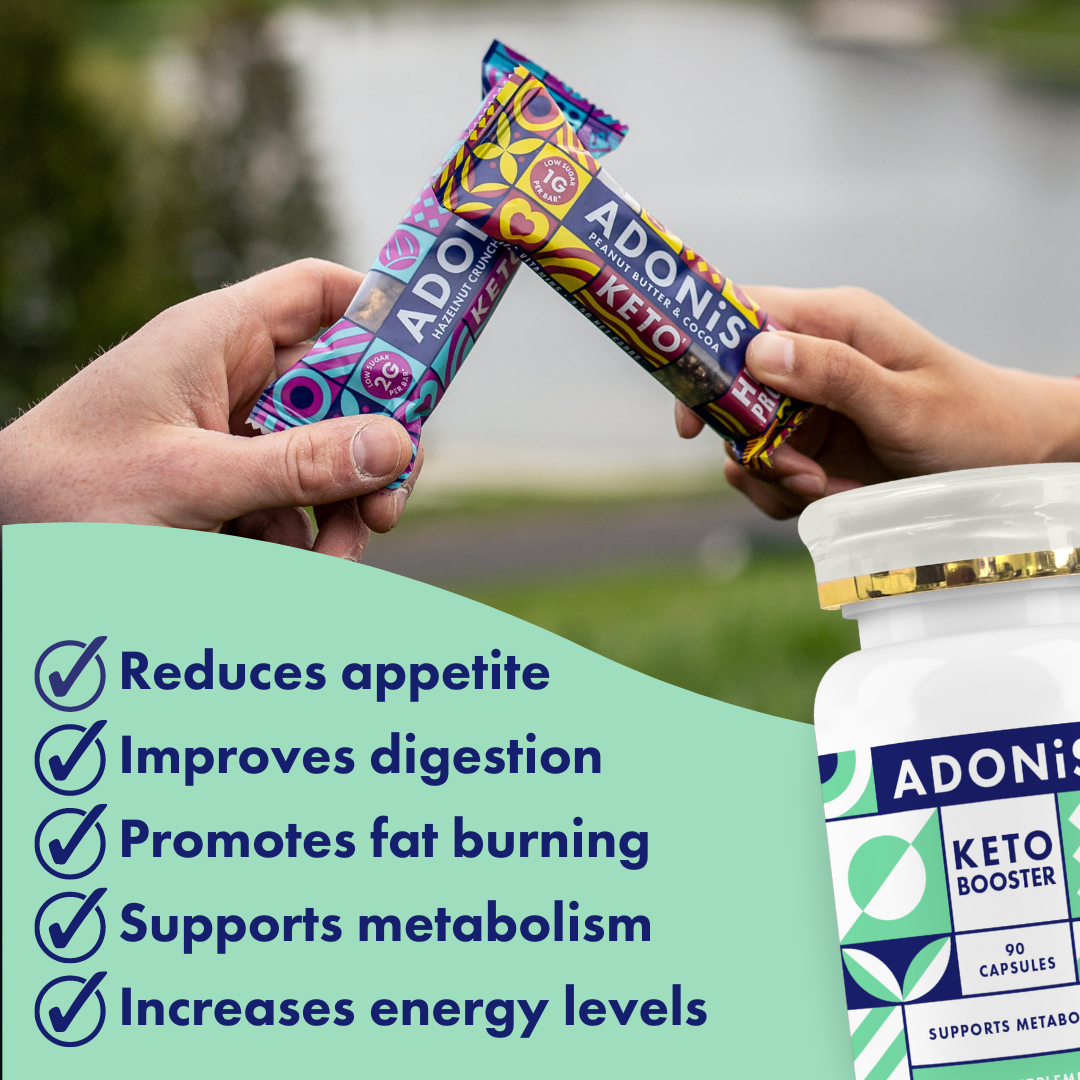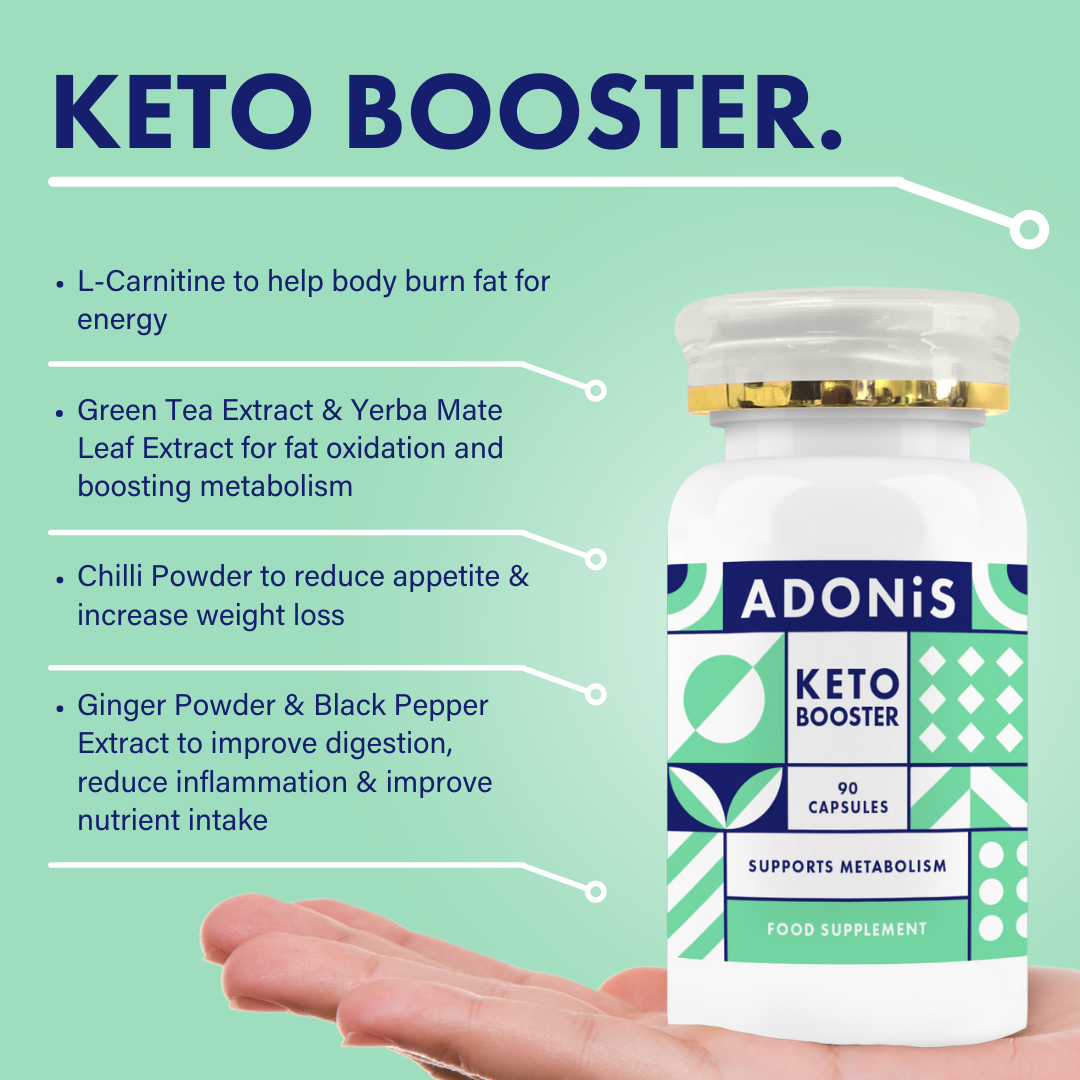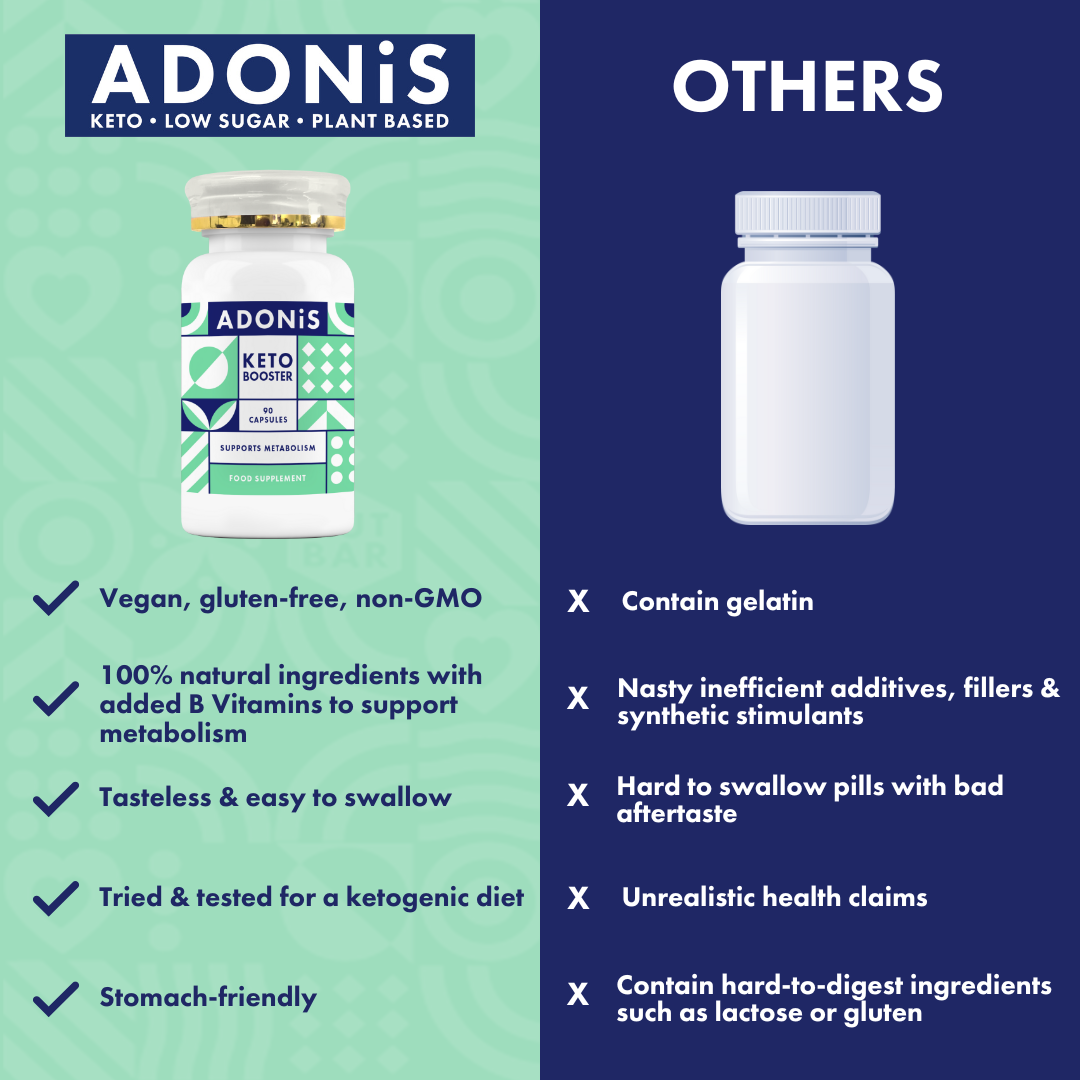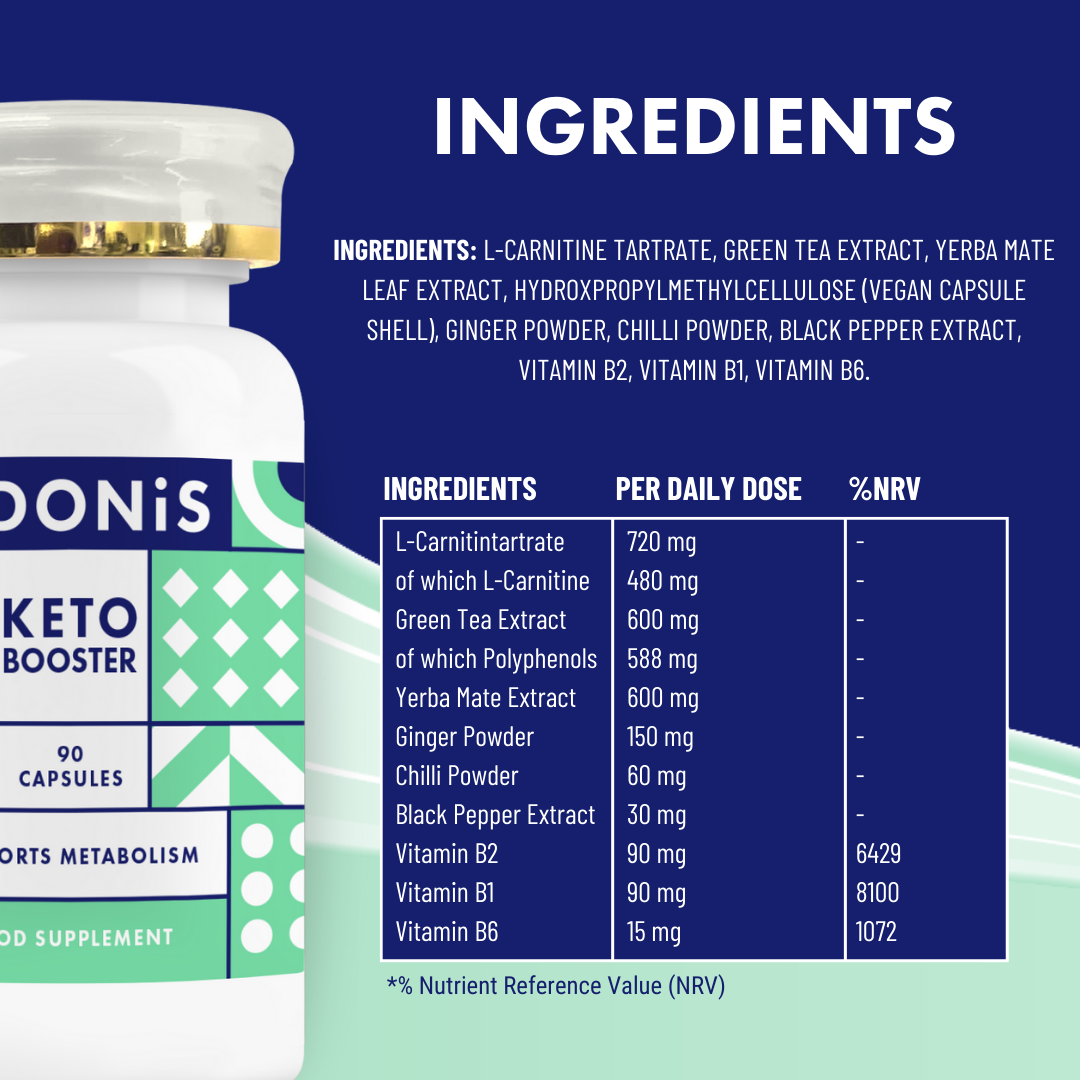 Keto Booster Supplements (x90 Capsules)
In stock - in your hands in 2-3 days
Keto Booster Supplements
Recipe for Keto Success!
Our Keto Boosters are specially formulated for so you can enjoy the ketogenic lifestyle with confidence and ease. Try them today and see the difference for yourself! 👀

Natural Ingredients

We use only high-quality, natural ingredients that are carefully selected and tested to ensure their purity and potency. With L-Carnitine, Green Tea Extract & Ginger Powder, our Keto Boosters are the ideal companion for your keto journey.
Plant Based
Our keto pills come in convenient vegan capsules that are easy to swallow and free from animal products, making them a great choice for vegans and vegetarians. 🌱
L-Carnitine: support fat burning and increase energy levels

Ginger Powder: has anti-inflammatory and antioxidant properties that help to improve digestion and reduce inflammation.

Vitamins B2, B1 and B6: essential for energy metabolism and can help to reduce fatigue and brain fog.

Chilli Powder: reduce appetite
PER DAILY DOSE L-Carnitintartrate: 720mg of which L-Carnitine: 480mg Green Tea Extract: 600mg of wich Polyphenols: 588mg Yerba Mate Extract: 600mg Ginger Powder: 150mg Chilli Powder: 60mg Black Pepper Extract: 30mg Vitamin B2: 90mg Vitamin B1: 90mg Vitamin B6: 15mg
L-Carnitine Tartrate, Green Tea Extract, Yerba Mate Leaf Extract, Hydroxpropylmethylcellulose (Vegan Capsule Shell), Ginger Powder, Chilli Powder, Black Pepper Extract, Vitamin B2, Vitamin B1, Vitamin B6.
We offer free delivery over £35 (£2.99 if under) but subscription orders have free shipping, ALWAYS!

If you place an order before 10:30am on a weekday, we will despatch it the same day. Otherwise, it will be despatched on the next working day.

If you ordered or received the wrong item, or there is another problem with your order, you can return them within 30 days of delivery. To start a return, please send us your order confirmation and a photo of your order with your reason for return to hello@adonis-foods.com

We will investigate the issues and if the return is accepted, you will receive a shipment label to return your item free of charge. Refunds will then be sent via the original payment method no later than 30 days after the returned products have been received.
ADONiS vs OTHERS
ADONiS
OTHERS
ADONiS COMMUNITY
At ADONiS, we strive to create a strong community of supportive and like-minded individuals who value healthy eating. We believe in making plant based keto snacks accessible for all.
3M BARS SOLD TO DATE
Founded in 2016 by Ingo Braeunlich, ADONiS' mission was simple: to fight the overconsumption of sugar and provide a healthier alternative to traditional snacking. Today, ADONiS has sold over 3 million bars to date, and is now a leader in the keto snacking industry.
TRIED AND TESTED
All of our products are designed to be the perfect macros for the keto diet. This means no spike in your blood sugar levels and no energy crashes.